Supporting a purposeful centre
It is with great pleasure that we can introduce to you TierQuarTier.
On a total of 9,700 m², more than 150 abandoned, abandoned or runaway dogs, around 300 cats and hundreds of small animals such as hamsters, guinea pigs and rabbits find a temporary home. 
TierQuarTier Wien is one of the most modern animal welfare competence centres in Europe – it meets the high demands of modern animal care and defines animal welfare in Vienna on a new level.
Both Shelley and James will be working for 5 days prior to the workshop to really help the team and the dogs at this wonderful centre. This will be followed by a really special I Have A Dream Day event for Dogs.
[vc_empty_space height="60px"]
[vc_separator]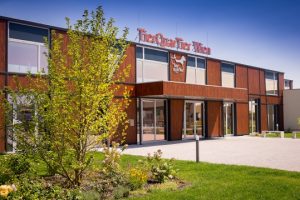 On The Trust Technique Dream Day
We will have the pleasure to be working with the lovely dogs at TierQuarTier.
Morning
A full presentation on an in-depth look at the Technique and the bigger picture of both animal and human care. Breaking out of the conditioned box that people have been caught up in for centuries!
James will share in detail the three main principle and understandings of the Trust Technique
Creative Reaction
Realisation Learning
Trusted Cooperation
Exercises to create the right mindset and how to deliver the mindfulness to any animal
Lunch  12.30 pm
Afternoon
Practical demonstrations
Group participation
What you will need to bring
Please bring your own pack lunch
Pen and paper
Open mind and a smile
Extra directions
Please see map below. 
Accommodation
Here is a list of the accommodation in the area through