Category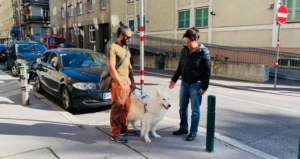 Works in person and online with Domestic Animals
Based in Hamburg, Germany
Bio:Es gibt nichts Schöneres, als Menschen und Hunde in schwierigen Situationen zu unterstützen. Was meine Kunden sagen:
"Als wir Mel adoptierten, konnten wir sie nicht berühren. Nach einigen TT Sessions konnte Mel in unserer Gegenwart entspannen, Berührung annehmen und wir haben sogar ein Geschirr angezogen."
"Bei einem Blindenhund ist gegenseitiges Vertrauen essentiell. Mein Handicap spielte keine grosse Rolle bei unseren TT Sessions."
Und wie kann ich Ihnen helfen?
It is my privilege to support people and dogs in any stressful situation. What some of my clients say:
"When we adopted Mel we couldn't even touch her. During our sessions, Mel started to relax in our presence, allowed touch, and we could even put on a harness."
"Especially with my guide dog, trust is essential. My handicap didn't play a significant role in our sessions."
And how may I help you?
Website:www.audreymaak.com
Please fill out the form below to contact this practitioner: