Category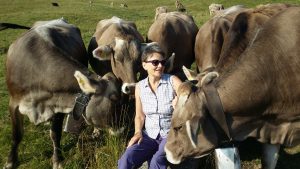 Works in person and online with Domestic and Large Animals
Based in Zurich
Bio: Animals always have had a favourite place in my heart and my life.
When I discovered the Trust Technique, it was like a homecoming. As if I had found something precious that I did not even know I had lost.
Spending time with an animal in stillness and peace is the beginning of a new relationship between humans and animals.
I am happy to show you how you can share this mindfulness and peace with your animal. The result will be a relationship based on trust and understanding.
Tiere haben immer einen bevorzugten Platz in meinem Herzen und in meinem Leben eingenommen.
Als ich die Trust Technique entdeckte, war dies für mich eine Art "nach Hause kommen". Als ob ich etwas sehr Wertvolles zurück bekam, von dem ich nicht einmal wusste, dass ich es verloren hatte.
Die Stille und das Gefühl des Friedens mit einem Tier zu teilen ist der Beginn einer neuartigen Beziehung zwischen Menschen und Tieren.
Ich freue mich darauf Dir zu zeigen, wie Du und Dein Tier in Achtsamkeit und Frieden zusammen leben könnt.
Das Resultat wird eine tiefe Beziehung, basierend auf Vertrauen und Verstehen, sein.
Email:babs.brunner@bluewin.ch
Website:
Please fill out the form below to contact this practitioner: