Category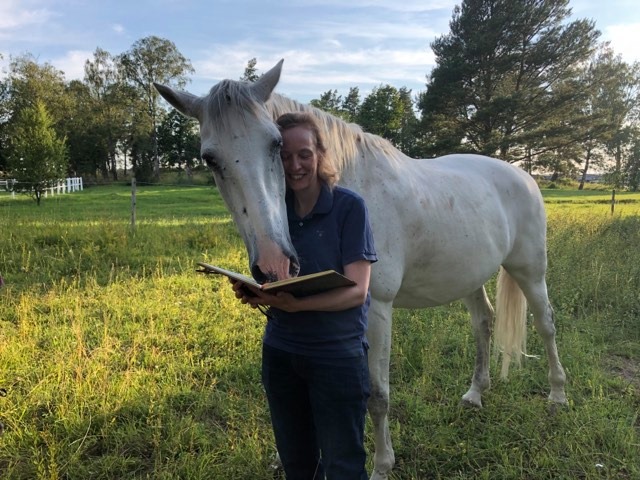 Works in person and online with Domestic & Large Animals
Based in Stockholm
Bio: Presence is the best present you can give anyone in any relationship. Animals honestly reflect if you are present or not, which makes the Trust Technique so effective when we want to create harmonious relationships.
I have always loved animals and as an artist, I have explored many ways of relating to them: working at a yard, studying animal anatomy, movement, behaviour, communication and perception. There is always something new to learn! Now I am a student of Emelie Cajsdotter.
Drawing animals/people is a way of being fully present and observing in a curious way without judgment, encouraging them to express their full essence.
As a Trust Technique practitioner, many experiences of presence have made my heart sing.
Clients who were initially afraid of their animal experience their relationship so naturally after our sessions, so that they sometimes even forget that they were afraid before! Even relationships between family members have improved when they have practiced the Trust Technique together with their animals.
My dream is for all people/animals to enjoy being present like this as a daily routine.
Imagine Peace.
—
Vill du uppleva the Trust-Technique på svenska?
Närvaro är den bästa present du kan ge någon i en relation. Djuren speglar ärligt om vi är närvarande eller inte, vilket gör the Trust Technique så effektiv för att bygga harmoniska relationer.
Jag har alltid älskat djur och som konstnär har jag tränat på närvaro tillsammans med djur och undersökt olika sätt att relatera till dem genom att tex jobba på ridskola, studera anatomi, beteende, kommunikation och perception. Det finns alltid något nytt att lära! Nu går jag tex Mio utbildningen för Emelie Cajsdotter.
Att teckna djur/personer är ett sätt att vara i full närvaro och nyfiket observera utan att döma, samt att uppmuntra dem till att uttrycka sin fulla essence.
I min roll som Trust Technique Practitioner har många upplevelser av närvaro värmt mitt hjärta. Klienter som från början var rädda för sina djur har ibland, efter våra sessioner, blivit så trygga i relationen till djuret att de faktiskt glömt att de kände rädsla innan vi började! Relationer mellan familjemedlemmar har förbättrats sedan de övat Trust Technique med sitt djur tillsammans.
Min dröm är att alla människor/djur kan glädjas åt denna närvaro dagligen.
Imagine Peace.
Website: present-moment.se
Please fill out the form below to contact this practitioner: