Category
Works in person and online with Domestic Animals
Based in Mühlheim, Baden-Württemberg, Germany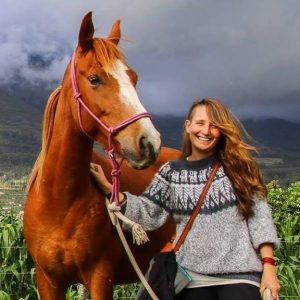 Bio: Mich hat die Welt der Tiere schon immer fasziniert. Im Alter von 6 Jahren durfte ich die Welt der Pferde kennenlernen. Ohne Sattel am Strand. Ich war sofort Feuer und Flamme für die sanften Riesen und ihre feine Kommunikation. Damals schon begleitete mich unser treuer Familienhund zu dem ich eine sehr enge Beziehung hatte. Derzeit leben zwei wundervolle, ehemalige Straßenhunde bei mir. Ich bin ihnen so unendlich dankbar; aufgrund ihres ausgeprägten Jagdtriebs, der Angst vor Feuerwerk und meiner anfänglichen Verzweiflung, habe ich die Trust Technique® kennengelernt.
Durch die Trust Technique® durfte ich noch tiefer in ihre Welt eintauchen und unsere gemeinsame Sprache der Gefühle lernen. Trotz Wildsichtung genießen wir heute unsere Spaziergänge und meistern Silvester entspannt.
Möchtest auch du Vertrauen mit deinem Tier auf einer noch tieferen Ebene erfahren?
Mein Traum ist es, Menschen mit ihren Tieren diese vertrauensvolle Kommunikation beizubringen, damit sie gemeinsam friedlich durch Dick und Dünn gehen können.
—
The world of animals has always fascinated me. At the age of 6 I got to know the world of horses- bareback on the beach. I was immediately hooked on the gentle giants and their fine communication. At that time we were accompanied by our faithful family dog, with whom I had a very close relationship. Currently, two wonderful, former street dogs live with me. I am so infinitely grateful to them; I became to know the Trust Technique ® because of their pronounced hunting instinct, fear of fireworks and my initial desperation.
Through the Trust Technique ® I was able to delve even deeper into her world and learn our common language of feelings. Despite sightings of game, we enjoy our walks today and master New Year's Eve relaxed.
Would you also like to experience trust with your animal on an even deeper level?
My dream is to teach people and their animals this trusting communication so that they can go through thick and thin peacefully together.
Website:
www.coaching.danielakohler.com
Please fill out the form below to contact this practitioner:
Mühlheim, Baden-Württemberg, Germany