Category
Works in person and online with Large Animals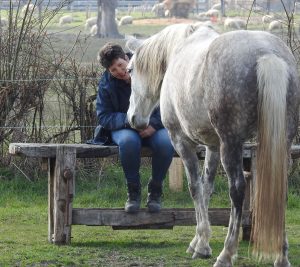 Based in Gouzon, France
Bio: My life changed when my horse did not want me near her, and I found myself on a journey with five equines, a dog and a cat, learning to create a healing space for animals with chronic physical and behavioural issues, such as laminitis, uveitis, cribbing, arthritis, late onset deafness, etc.
Creating this space starts with being present with your animal and learning to regard them effectively, and from here we learn to work with chronic conditions intuitively, instead of from a place of overwhelm, concern or stress.
Whatever the journey, it starts with a consultation, and develops at you and your animals pace.
I work throughout France with English speakers. Having a chat is the first step.
Website: www.animalconnectionandbeyond.fr
Please fill out the form below to contact this practitioner: