For A Limited Time This Introduction Course Is

FREE!
Messages Of Trust video series
For A Limited Time This Introduction Course Is

FREE!

Normal Price £19.99
THE INTRODUCTION COURSE

The perfect introduction to the Trust Technique®
A detailed description of the core principles and understanding.
With stunning examples and practical advice.
Helps all animals including people!
Subtitles in Deutsch, Espanol, English and Francais
The missing "peace" in the relationship with your animal
We have all been conditioned over centuries to believe such things as the boss theory, pressure methods, animals don't have feelings and that somehow your animal is competing against you. This stems from the judgement of "bad" behaviour which needs correction and reprimand. The problem here is that behaviour is only the outward expression of something else, which is happening on a deeper level and that is how your animal is FEELING.
Either consciously or subconsciously you will be sharing these feelings. It will more than likely be expressed by you as one or as a combination of these emotions. Frustration, anger, worry, guilt, embarrassment, helplessness, despair, anxiety and the list goes on.
This creates a gap between how you truly feel about your animal, the love you have for them and the way you are reacting to them. It is this separation that causes the most pain in the relationship! 
The key to making fast and long-lasting positive change is to help them let go of fear and build trust and confidence in you and his or her surroundings.
Discover a new connection, that will benefit you as much as your animal
The Trust Technique® is a mindful approach to help your animal and yourself. A simple way to develop a peaceful connection with trust and confidence. By changing the negative feelings you are sharing.
Experience a quantum shift in shared trust, overcome problems in a kind considerate way and develop new inspired levels of co-operation.
The Trust Technique can help all sentient beings with a gently profound non-dominant approach.
Inspiring and touching messages that talk straight to the heart. Time for change cannot be postponed, starting from ourselves for the benefit of animals and the whole planet. Thank you, James and Shelley, for all what you are doing and how you are doing it.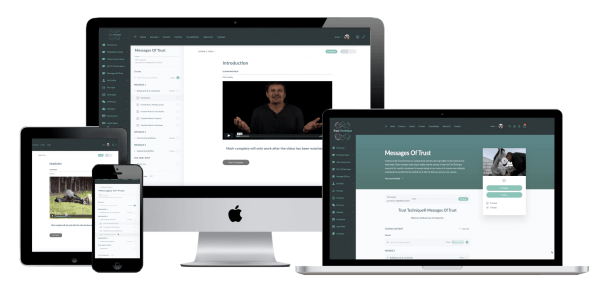 The messages of trust video series
Introduction to the Trust Technique
It is the perfect way to see the benefits that this method offers and includes practical advice that can be implemented in your relationship straight away.
This introduction also includes exercises to start you on the Trust Technique journey. Helping you know if you would like to learn all the exercises found in the next course "The Foundation"
Creating a relationship beyond emotions that has a shared healing effect
Why a mindful approach changes everything
The importance of thinking feeling levels
How to create a peaceful connection
Helping your animal with physical and emotional healing
Exploring the technique Creative Reaction
Run time 21.51 mins
A unique and simple way to resolve behaviour problems with regard and kindness.
How animals and people react
The true nature of problems
How a change of perception is a change of behaviour 
How animals can realise their own learning without training
Exploring the bigger picture of animal care
Run time 29.36 mins
Exploring new levels of communication and trusted co-operation. 
Understand the spirit of co-operation
Easily teach your animal with full willingness
How to create a two way animal communication
A deep look at interacting with your animals intelligence
The future of how we can be working with animals
Run time 39.35 mins
'Messages of Trust' - a simple, clear insight into The Trust Technique, a serious game changer spreading across the world, enhancing the lives of both man and his animal friends by building incredible relationships of trust and confidence between the two. Thank you James and Shelley for sharing this beautiful gift! x
Messages Of Trust Video Series
Promotional Price
Inspired connection with your animals

FREE TODAY For The Full Series With Lifetime Access

Message 1 - Building connection

Messages 2 - Overcoming problems

Messages 3 - Inspired possibilities

Start learning the techniques

Perfect introduction for the foundation course

Subtitles in Deutsch, Espanol, English and Francais