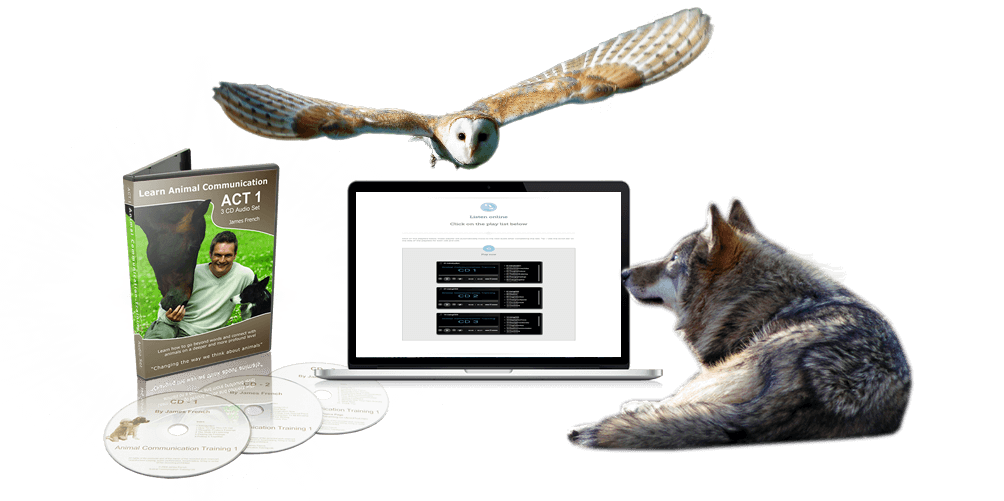 Learn animal communication easily with the ACT1 CD Set which also comes with the online, members area
Animal Communication Audio Set
James has been recognised as one of the leading UK Animal Communication teachers in the last decade. He has taught 1000s of people how to connect with and pick up their animal's feelings ... in detail.
Discover these easy to use tried and tested methods that open a new perspective to understanding your animal opinions.
Learn animal communication easily with the ACT1 CD Set which also comes with the online, members area
Physical CD SET
Members area:
Listen to the set online
Watch the video, taken from the ACT1 Workshop
Practice your new skill in the members, practice area
Connect with like-minded people
Membership Content
Discover these dynamic methods
UKs pioneering animal communicator James French
Learning animal communication online gives many people the skills needed for this touching connection at a learning pace that suites them. In the CD set, James shares 3 different methods for you to communicate with animals, this comprehensive teaching is delivered in the easiest way to learn animal communication "audio and video".
Sit back and let ACT1 take you for the journey straight to your animals heart!
Course Content
Membership Benefits
Understand your animals thoughts and opinions is a life changing event. How many times have you looked into the eyes of your animals and thought to yourself "I wish I knew what you are thinking?" Animal Communication takes you to this magical place of wonder and innocence. You will be touched to realise how special the thoughts and feelings of our animals really are. Even when you had thought that they were being bad, you will have the opportunity to see these things in a completely different light. Understand your animals in a way where you can be of true help.
This CDset can be of great help to:
Pet owners
Animal Therapists
Behaviourist / Trainer
Vets
Rescue animals 
Membership
CD Set
The CD Set is delivered to your door. Three CDs giving you the tools to create the right mind set and step by step instructions  to give you the experience of accurate animal communications.
Cd Set online
The online version of the CD Set. You can start learning as soon as you have purchased with our online access. You can also download the set so that you can play on your media devises. 
Videos
Be part of an ACT1 workshop, these videos helps you to understand the essence of animal communication in a small class setting.  These videos greatly enhance your learning experience
Practice
The ACT1  face book group is a place to practice with like minded people, who have also completed the course.  This is the fastest way to apply the teachings and build your confidence.
Audio Tour
Listen to the intro 
What have our members said?
I have taken many animal communications courses with many great people - but all the negative things like don't drink soda , meditate , I had many great hits and my small town and negativity came in = James lets me connected so easy and I am so happy to pursue this , Thank you
My friend bought your animal communication course cd for me. I had previously listened to many, many free tips, two small courses, one large $130, but although I could randomly communicate well, ACT1 was the only program that could EVER help me with my communication block, and now I can communicate with increasing confidence and ease. Now its time to be looking into the Trust Technique. Thank you deeply, James, for helping me.
Whats most amazing to me about a miracle is to realize it happens on me, very often in a natural manner. The most important lesson I have learnt from this workshop is that miracle is a creation, we dont go anywhere else for it but create it in the here and now. We are our own possibilities. Thank James!!
This is an excellent learning package and allows you to become familiar with the methods using the CDs and practice before the live workshop. James has an inclusive, down to earth style of teaching that anybody can relate to, whatever their background or belief system .Its the simplest and most enjoyable method I have come across and James love for this work is contagious.
The CDs have given me a real and consistent way of receiving the feelings I had occasionally felt from animals.