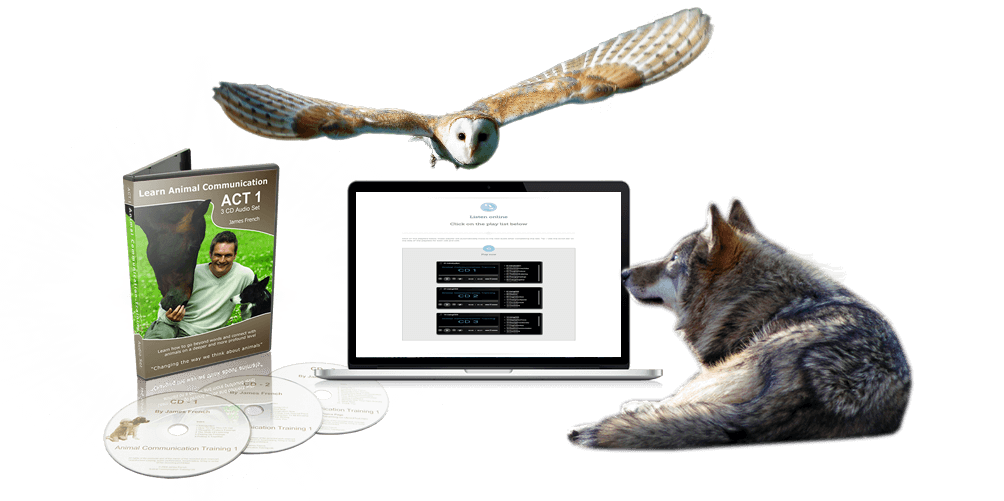 Learn animal communication easily with the ACT1 CD Set which also comes with the online, members area
Animal Communication Audio Set
James has been recognised as one of the leading UK Animal Communication teachers in the last decade. He has taught 1000s of people how to connect with and pick up their animal's feelings ... in detail.
Discover these easy to use tried and tested methods that open a new perspective to understanding your animal opinions.
Learn animal communication easily with the ACT1 CD Set which also comes with the online, members area
Physical CD SET
Members area:
Listen to the set online
Watch the video, taken from the ACT1 Workshop
Practice your new skill in the members, practice area
Connect with like-minded people
Membership Content
Discover these dynamic methods
UKs pioneering animal communicator James French
Learning animal communication online gives many people the skills needed for this touching connection at a learning pace that suites them. In the CD set, James shares 3 different methods for you to communicate with animals, this comprehensive teaching is delivered in the easiest way to learn animal communication "audio and video".
Sit back and let ACT1 take you for the journey straight to your animals heart!
Course Content
Membership Benefits
Understand your animals thoughts and opinions is a life changing event. How many times have you looked into the eyes of your animals and thought to yourself "I wish I knew what you are thinking?" Animal Communication takes you to this magical place of wonder and innocence. You will be touched to realise how special the thoughts and feelings of our animals really are. Even when you had thought that they were being bad, you will have the opportunity to see these things in a completely different light. Understand your animals in a way where you can be of true help.
This CDset can be of great help to:
Pet owners
Animal Therapists
Behaviourist / Trainer
Vets
Rescue animals 
Membership
CD Set
The CD Set is delivered to your door. Three CDs giving you the tools to create the right mind set and step by step instructions  to give you the experience of accurate animal communications.
Cd Set online
The online version of the CD Set. You can start learning as soon as you have purchased with our online access. You can also download the set so that you can play on your media devises. 
Videos
Be part of an ACT1 workshop, these videos helps you to understand the essence of animal communication in a small class setting.  These videos greatly enhance your learning experience
Practice
The ACT1  face book group is a place to practice with like minded people, who have also completed the course.  This is the fastest way to apply the teachings and build your confidence.
Audio Tour
Listen to the intro 
What have our members said?
Fantastic day in Ashford today. The relaxed style of teaching was really appropriate and certainly helped me relax into the animal communications. Thank you Shelley and James. Cant wait for the next one!
Venue: superb; Shelley & James: excellent hosts & teachers; workshop: enlightening. I have always felt I had a strong affinity with animals, with strong equal partnerships particularly dogs & horses. I now realise that I have always been slightly dominant! My only regret is that I wasnt aware of Shelley & James amazing work until now. But more amazingly, we all have the ability to communicate with our animals on a much deeper level, proven by my own animal communications yesterday - WOW - I felt so humbled!!! Im very level headed, practical & I question everything. Here there are no questions, just pure honesty. After years of looking for the missing link, it finally found me!
Venue: superb; the day: mind blowing, awe inspiring, humbling, fantastic; Shelley & James: it was an honour to meet them; the training was outstanding, very interesting and informative. I am still in awe of the fact that I can actually communicate with animals on a level I never knew existed. Ive always considered myself to have an affinity with animals and an ability to treat them as equals, but the workshop has shown me that I have only ever scraped the surface. Im so looking forward to ACT2 and a future in truly helping animals in need. I can fully recommend the workshop to anyone who is committed to giving their animals total peace and tranquility.
I really enjoyed the workshop, which I felt was very much compliemented by the pre-work I had done with the CD. I had not been brave enough to practice an actual AC though, and this is where the workshop really came into its own. Being able to practice in such a friendly and open group was wonderful. The feedback results really blew me away! I would love to attend this course again, and eventually the AC2 and will try to keep up my practice in between. The others people in the group were so genuine, many who were also interested in other fascniating areas such as Reiki, mediumship etc. James is a gentle guide through this mysterious and eye opening subject.
I really enjoyed attending an ACT1 Workshop a while ago. Purchasing the CD set has enabled me to reflect on James words and remember the things I had forgotten. James calm tones talk through each step of the process, making the information easy to digest and recall. There is also a personal quality to the way the information is imparted giving the listener the feeling that James is there with you providing private tuition. I am now saving up my pennies in the hope of doing an ACT II Workshop in the near future.