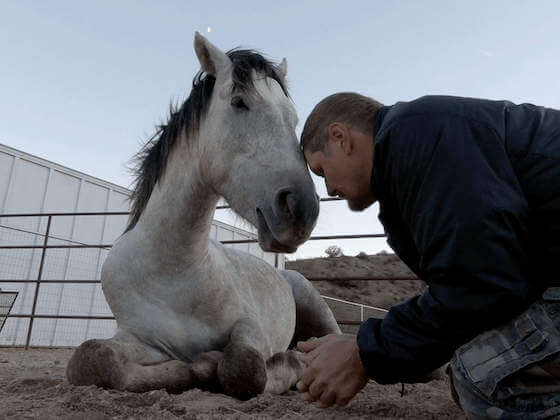 A unique set of 15 videos containing profound insights into your animal-human relationship
After 15 years of working with The Trust Technique, the founder James French shares a deeper understanding and meaning of what this method is and what it represents.
Click the price for currency conversion
What is the Trust Technique?
The Trust Technique elevates both the person and their animals' connection and communication. This is done within a mindful practice which is shared between the person and the animal.
In the first stages, this connection builds a core bond of trust and confidence in each other, which can then develop and extend to other areas of their lives. When the relationship shifts from fear to trust, over-reactions are replaced with instinctual learning.
This method promotes cooperation through kindness. The reward is a more truthful understanding of your animal's intelligence and allows for a new level of communication and shared wellbeing.
We are delighted to share this information with you and to help you discover something that is gently profound yet incredibly strong.
What are the Messages Of Trust?
This set of 15 videos clearly describes the essence of the Trust Technique and its unique view into the animal-human connection.
You will discover the importance of lower thinking levels.
How this creates a deeper connection of trust and confidence.
How this changes behavioural problems in a really simple and effective way
How we can develop trusted co-operation and take your training to a new and exciting level.
What this means on a bigger picture for both you and your animals.
Who is this for?
The Messages Of Trust are perfect for those wishing to understand the benefits that this method offers to you and your animals. Highlighting their value of becoming a video course member, the foundation course for learning the techniques.
It is also perfect for those who are already engaged in our courses be this a video course member or the level 3 diploma practitioner.
The information in these videos shares much-needed understandings. Full of practical examples of why supporting our animals with regard and kindness is the future of animal-human work.
Supporting The Trust Technique Sponsorship Program
The Trust Technique Sponsorship Program
The proceeds from The Messages Of Trust supports The Trust Technique Sponsorship Program. This will help many people and their animals, from pet carers to rescue centres by helping them gain access to the Trust Technique Lifetime Video Course.