What do our current members have to say?
I've just completed the Trust Technique Video Course for the second time and was able to understand and appreciate so much more the second time...
Animals have always played an important part in my life and I've had a wonderful career as an equine therapist. Throughout the course there have been many "Ah Ha" moments when I now understand the response, feedback, feeling, intuition I was experiencing from different horses over the years and I am so grateful to James and Shelly for this new awareness.
Using the Trust Technique with my two recently re homed dogs has been invaluable in helping them settle in and support them with any issues that they are carrying/arise. I don't always know the history/details around these situations, but I can now create a safe space for them to feel peaceful and gradually release.
Thank you James, Shelly and your team again for all the time, effort and excellent teaching content of this course which is truly inspirational and I highly recommend:).

Absolutely fantastic and Life-Changing! Thank you James and Shelley for creating this magnificent program, where we get to listen and communicate at a very different "frequency" with animals. We go in it to help our beloved animal friends, and can quickly realize that many times it is US that need the healing first. The name should perhaps be The Trust Technique Healing Video Course! 🙂 The guidance in this program has made me realize SO much about myself, and how I react to situations, which is being mirrored in my dogs. Truly life-changing at so many levels! since the principles are applied not only with animals but with life experiences in general. The course itself is very well put together and organized, and so many various examples! I don't feel words are enough to describe the impact the trust technique has had in my life and healing journey. Deeply grateful to have found The Trust Technique.
My deepest thanks for all the valuable and deep content provided. I already learnt so many things.
I really appreciate your wonderful work which is more than important these days in this world.
I feel very honoured to have the possibility to join the Trust Technique Practitioner course and to become part of this beautiful story.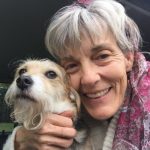 Well, I guess the best review I can give is that I have signed up to train to be a facilitator of this heart-opening, authentic and impactful work. Coming from a background of abuse and disconnect, physical, mental and spiritual in nature, and having healed in so many ways, I understand that trauma is at the root of any behavioral issues. If healing is to happen, this root must be addressed, both in people and animals. Never have I seen it done more beautifully and simply than in the Trust Technique. All that is required is a willingness to be present for 30 seconds at a time and to go at the animal's pace with patience, perseverance and peace. I often have wondered what the world would look like if everyone were to mindfully regard not only each other, but for all life and Earth itself. Doing this course has given me a glimpse into what that might look like. I have been moved and inspired at my core.
The Trust Technique is exactly what I want to "give" to animals and their humans.
I have really appreciated the way that the videos are carefully chosen. James French comments are really helpful.
It has been a pleasure to practice the technique with my animals. I can see how much good it brings to them and to me!
I've used it to accompanied my dog in the last weeks of his life and it was a very rich and powerful experience for both of us.
Thank you!