Trust Technique video course
Mindful approach to animal connection

What is the Trust Technique?
The Trust Technique ® is based on the premise that animals and humans share and react to micro feelings. When an animal or a person is over-thinking it creates strong emotional feelings. When this happens it can become more difficult to understand or connect with each other. This can have a negative impact on the relationship and ultimately may lower trust levels. Anxious over-thinking is one of the main causes for so called "behavioural problems" in both animals and people.
The Trust Technique® is a mindful practice that is shared between the person and their animals. In simple terms, there is a sharing of peace of mind – the opposite to over- thinking. In the first stages, this connection builds a core bond of trust and confidence in each other, which can then develop and extend to other areas of their lives. When the relationship shifts from fear to trust, over-reactions are replaced with instinctual learning.
Because this method is motivated from a peaceful authentic state of being, it promotes cooperation through kindness. The reward is a more truthful understanding of animal intelligence and allows for communication that manifests in shared wellbeing.
We are delighted to share this information with you and to help you discover something that is gently profound yet incredibly strong.
What is the video course?
This video course opens your mind to a world of possibilities where animal intelligence can be discovered in an environment of trust and confidence.
Since 2010 James has video recorded all sessions with rescue centres and his private clients. This has created a vast collection of stunning examples of how the Trust Technique works with all types of animals – dogs, horses, cats and even rescued lions. Each video story highlights different problems and how the principles and concepts of this method have been applied. These working examples are accompanied by creative video tutorials which have been designed to teach you this method with ease, breaking each concept down into practical exercises for you to do with your animals.  Making this powerful technique available for you at home anytime, no matter how busy your schedule!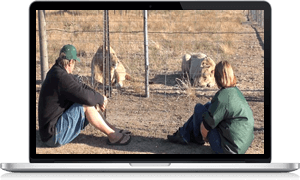 WORKING WITH RESCUE
James and Shelley donate their time to teach rescue staff this method. The examples in the video course feature Dogs, Horses, Cats, Lions and Bears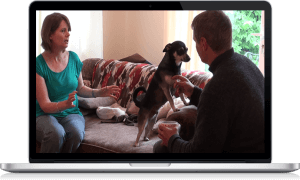 WORKING WITH CLIENTS
The video course covers numerous home visits, helping animals and people with the Trust Technique. These examples include Dogs, Horses and Cats.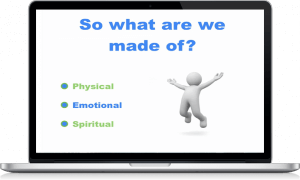 DETAILED TUTORIALS
Detailed and fun tutorials which are simple to do and very beautiful to share with your animals. Experience is everything and this is where yours starts!
Trust with any animal
This is the perfect way for you to discover the many concepts and principles of the Trust Technique and then share this practically with your own animals.
Videos play on all devices and browsers
James teaches you on a one to one level, sharing his intimate and personal experiences of working with clients and rescue centre animals. Imagine being able to connect to this information when you need it! For example, watch a video exercise on your iPhone and share with your horse in the field!
HOW DOES IT WORK?

Membership Content
The video course is laid out in sections, in total there are currently over 250 videos. Each section has a number of different tutorials and working sessions with different animals. You will find Horses, Dogs, Cats, Lions and Bears all being helped with the Trust Technique. The tutorials give very clear exercises so that you can start using the Trust Technique with your animal within the first hour. The animal sessions are either working and helping rescued animals or private consultations with James' clients.
Please feel free to contact us if you need any help. 01428 685 944
A simple way to find and stay in the present moment

How to deliver the present moment to your animal and give them peace of mind

How to create a intuitive listening environment between you and any animal

How to change deep feared conditions and help your animal change long term

How to let go of your own painful past and create a peaceful future, with the Trust Technique for people
How to make Animal Communication work for you, accurately pick up and deliver feelings from and to your animals

Understanding and finding peace with animal bereavement

Discover a powerful method of animal healing.

Examples with dogs, cats, horses, lions and bears!

And much much more...
Premium
GAIN UNLIMITED ACCESS TO FULL COURSE
Yearly
Subscription
Opens all 18 sections instantly, currently over 250 videos
Continued membership opens all future content
Follow the technique as it unfolds
Examples with horses, dogs, cats, lions and bears
Ask Questions
Forum access
Prerequisite for TT Practitioners, clinics and consultations
Know that your contribution is helping animals worldwide
And so much more…
Lifetime
1 payment
Opens all 18 sections instantly, currently over 250 videos
Opens all future content, for life!
Be the first to view new content
Follow the technique as it unfolds
Examples with horses, dogs, cats, lions and bears
Ask Questions
Forum access
Prerequisite for TT Practitioners, clinics and consultations
Know that your contribution is helping animals worldwide
And so much more…
Currency Converter ... click to open
Our Ethos and Projects.... click to open
What we do with funds created from the video course
We have always used the funds created from the video course to fund helping animals and organisation free of charge. Here are some of the projects we are currently doing.
Project Animal Rescue
We give our time to work with hard to help animals in centres and teach staff the Trust Technique
As you will see in the videos this service is very valuable for rescued animals. We have offered our services to rescued horses, dogs, cats, lions and bears and look forward to helping many more centres in this way.
Project The Dream (free trial)
Gives people free access to learning the Trust Technique with the platinum video course. premium members help us to pay for the video plays and promotion so that many people can have this opportunity to learn the technique. We believe that to share this information openly worldwide may over time make a difference to the animal-human relationship. We may not be able to change the world but to change individual relationships directly means everything to us.
Project Trust Technique Therapy
A unique therapy designed for all ages who have social, emotional or mental health needs. It involves working on a one to one basis with a specially trained Trust Technique Coach combined with rescued animals. Participants are taught mindfulness with an animal in a truly nurturing and healing environment using this pioneering method. The skills are used to support, direct and enhance the individuals ' lives.
In time this will develop to help many other people including terminally ill. The Trust Technique therapy has been specifically designed to help the animals and people find true healing together in a dynamic and unique way.
Currently, we are developing and accrediting this approach and look forward to the huge potential that it has to offer.
WHAT ATTENDEES HAVE TO SAY
Average rating:
164 reviews
Feb 18, 2018
This course has been life changing for me and my incredible friend and teacher, my dog Janssen.At the age of two het was extremely traumatised during a visit at the vet.Ever since I could not take him to a vet any more.Nobody was able to touch him.Then I found this "natural" vet who also communicated with him and she told him he needed acupuncture.That would have been absolutely impossible without the Trust Technique.I practised it for some months with him and when it was time for the acupuncture I used it to calm him down and he let her put 3 needles.It was incredible and really made me cry.A few weeks ago he left his beautiful body and during his last few months the Trust Technique has been a beautiful help to absolutely enjoy our last time together.James, you are such a gift to this world, the way you work with all these animals, all those beautiful video's.It feels like coming home, sharing this beautiful space together with other beings.Thand you so much for this incredible gift James and Shelley.You make my heart sing 💫💓💫
Feb 18, 2018
I have been working with these videos off and on for a year. Each time I go back in, I learn something new. I have to say that watching them is very soothing to something inside of me, and always evokes a peaceful response. I can honestly say that this course has been maybe more helpful with own life traumas than perhaps for my anxious dog, BB. Perhaps not, as she now comes to find me when it is going to storm and her anxiety begins. Always more to learn. So I continue studying over and over. Thank you James and Shelley!
Feb 12, 2018
This course is simply incredible. I have been communicating with animals since I was fifteen, and learning how to be peaceful and silent with them is equally vital to being able to hear them.It calms them (and me!) right down, and my oldest and wisest horse absolutely loves it, she soaks up the peace like a sponge.I have been able to use it to resolve disagreements among the animals, anxiety, nervousness and simply as a way to quiet our minds for a good heart-to-heart talk.Thank you so much James for sharing the tutorials and numerous case studies with us.
Feb 5, 2018
I am blown away by this course! I always knew there was something missing in my communication with my horses and the Trust Technique is definitely the missing link! Thank you so much!!
Feb 5, 2018
I recently ordered James' Animal Communication Training CD set.I was pleasantly surprised of how effective and inspirational his training is. Not only James is extremely talented, he also has the skills to effectively transmit his gift to others. Learning animal communication with James is very easy and fun, besides being extremely soothing. While listening, I can actually feel his energy just as he was sitting in the same room with me. And, I'm not kidding, my three dogs feel the same.Honestly, I have no words to describe the admiration and respect I have for James . He is truly my hero, and his contribution to this amazing planet is huge. Thanks, James!