---
WHAT IF…
The animal connection is more than imagined
The Trust Technique is a synergy of both healing and communication principles, delivered in a simple to use format for anyone to use effectively with any type of animal. It helps animals and people resolve problems by finding confidence and trust, whilst tapping into a delightful world where true animal intelligence can be seen, felt and interacted with.
WHAT IF…
Helping an animal is a journey shared
When it comes to helping both animals and people the Trust Technique has a very unique and new perspective to resolving negative situations. There is no such thing as a bad animal, just an opportunity for healing!
Our method highlights the bigger picture of the shared relationship, making the process beneficial to the animal and also the people in their life. There is always a reason behind a behavior problem. Building trust in this manner turns problems into an opportunity for development and learning. This evolution of relationship and change of consciousness opens up possibilities that could have never been previously perceived.
James
with the horses at Mane Chance Sanctuary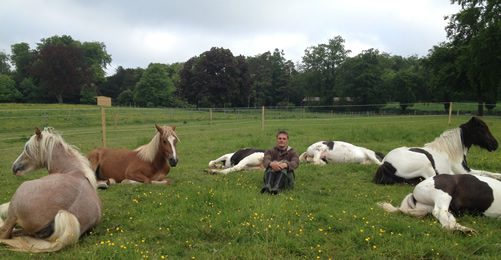 ---
---
James
I feel privileged to share with you this beautiful way with animals. My education started as a child, as my need for animal relationships was more than I could have understood at the time.
My whole life has been dedicated to understanding the commonly, unseen, and deeper relationships between animals and people. The spectrum of feelings they share, and the dynamic of  how animals and people relate to each other physically, emotionally and spiritually.
My journey started on a Reiki healing path where I was fortunate to study with the Grand Master, and continued with my creating Animal Communication Training with my partner Shelley. The combination of these two spiritual disciplines is the foundation to the Trust Technique.
Shelley
Together James and I have created a life full of  fun and purpose, which has allowed our talents and skills to develop beside one another. Studying Communication and Media with a small stint in main stream business, meant my skills could be used to set up  Animal Communication Training and the Trust Technique.
Presently I am a management consultant for Mane Chance Sanctuary. The Trust Technique helps me when working with the horses as well as with the disabled, critically ill and special needs children that visit the sanctuary. Both of these activities brings me immense pleasure and fulfillment.