What have past attendees had to say?

What a privilege to have attended the I Have A Dream Day at The Donkey Sanctuary? After sampling the online module I was keen to see the process for myself. I was not disappointed! It made the intentions clear, James & Shelley are truly inspiring in their dedication to their work. Made me feel so emotional that there are people out there who will stand for what they truly believe in & want to share their knowledge for the benefit of all animals. Made me feel that what I think & feel is normal! Pushed me to take this message forward into my work as a veterinary nurse, to create a fear free environment. I was inspired to take up the lifetime membership & then hopefully be accepted onto the practitioner course.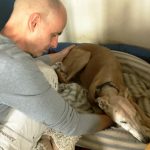 no way to give it less stars than 5! the donkey sanctuary is a wonderful place, way more beautiful for the animals than I expected and definitely worth the trip from switzerland. next to that I had a great time meeting other practitioners of different levels and to exchange some experiences - and feelings - with them. getting present in a group of like-minded people was a new and deep thing for me. I felt like filled up with fresh energy for my future work in the loneliness of an online student and can still sense the group around me. a lot of connections being built -also with shelley and james, who in real life are even more inspirational than on the videos! to sum it up: I still dream of that dream day!

Being participant at the TT- Dream Day at the Donkey Sanctuary and meeting James and Shelley in person was a real great honour for me. All the warmth, authenticity , and presence with animals and students was inspiring. Meeting other practioners and learners as well was great pleasure and its really hard work going back to " business as usual", means it seems hard not only longing for change but living change.
Thanks to all of you

The 'I have a dream' day and the associated practitioner day at the Donkey Sanctuary in Devon have rekindled my motivation to start the practical modules of the practitioner course for which I was accepted December 2018. James is an excellent teacher and presenter. It is no surprise that the Trust Technique, used with animals and their humans, which James and Shelley developed is gaining an ever greater following and their team is expanding in order to reach a growing audience across the world. Their approach is simple yet subtle, gentle yet very effective. I would recommend this day and the video course to all animal lovers who would like a deeper and closer connection with their animal. It was a privilege to spend two full days in the company of James and his team and I will continue to follow their fantastic work with interest and in gratitude as a student now and as a future qualified practitioner. Your commitment, enthusiasm and dedication are truly inspiring, thank you!

This is a massive leap in our consciousness and our relationship to animals. The day workshop was magical and inspiring , this is the evolution of us as a species. This work needs to be shared with the world, if we are to understand how animals and nature are feeling beings like we are. Feel immense gratitude for the workshop. Thankyou???????????