What have past attendees had to say?

I attended the Dream Day at the Donkey Sanctuary in Devon U.K.. It was my first meeting with James, Shelley and their beautiful team. It was a long way to go there from Italy but it was really worth to do. Having the possibility to learn in person from James and Shelley was a real privilege and it is something I can only recommend.
In reality animals' opinion comes really first. No show, only real life, always with respect, compassion and love for the animals because the expertise fully matches with integrity and honesty. Last but not least, it was beautiful to realize to be on the same journey with many soul mates with whom to share common values and the sincere purpose of serving.
Inclusive, loving atmosphere, lots to learn, an inspiring day!

Thank you all from the deep of my heart.

I attended the I Have A Dream day in Vienna recently. It took place at TierQuarTier the large modern animal rescue centre which is just on the edge of the city. It was a big decision to go - to travel from Cornwall to Vienna for a one day course but my heart was telling me to do it , I felt it was the right thing to do whatever the difficulties of getting there. And my heart was right. The whole day was amazing. I have been watching the online videos for about a year so I know already about the technique and the incredible results of doing the work. But videos are one thing and actually being there is another. James and Shelley are wonderful people with big hearts and a powerful healing technique to share. I've been impressed watching James working on the videos and so meeting him was very special. He is as he seems on the films - honest, humble, calm and compassionate.... and human! I got a much greater understanding of the Trust Technique from actually being there in person and now I have returned to the video course with an even deeper committment to continue learning. It was also wonderful to meet other like-minded people from all over Europe.
I recommend this day course to anyone who wants to work with their animals and to be part of this ever growing movement to improve the lives of all animals who share this beautiful planet with us.

I am still carrying the warmth and joy of that day inside my heart. Thank you James, Shelley and all the people and animals who were there.
Attending this 'I have a dream day with Dogs' was a dream come true for me. For a while now I have been following James and Shelley on social media and from the start I felt the importance of their method and how truely inspiring it is. After I discovered the existence of the Trust Technique, I immediately enrolled to the online course.

How many times I have been crying while witnessing the transformation of the animals who are blessed to be introduced to the Trust Technique.

This day was amazing; to meet James and Shelley in person, to see them work first hand on the animals and to connect to like minded people.

Again, this was my dream come true and I know that I will be more and more involved with the Trust Technique with my goal to become a certified practicioner.

James and Shelley, thank you for you.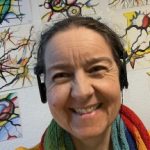 When watching James and Shelley on video, I was in complete awe. I had never seen such a peaceful, loving, trust-based relationship between human beings and animals. I had tears in my eyes with every single video I watched. And then I learned about the opportunity to meet Shelley and James in person. This seemed so unreal. And... even better than that! Because I am part of the Practitioner course, I got an exclusive invitation for a meet and greet and had the honor and pleasure to experience their work first hand.
Words can't describe what this "I Have A Dream Day" meant to me. It feels like I've finally found my tribe - meeting not only Shelley and James, but also fellow Practitioners and Video Course Members, who all share their passion for animals.
Shelley, James, you are making a difference, and not only to the animal world. Thank you so much for everything you are doing!

I was privileged to be part of the I Have A Dream Day at Tier QuarTier Animal Rescue Centre, Vienna. Privileged to see the work that James and Shelley do with damaged dogs first hand. To watch the miracle of the Trust Technique unfold before my very eyes was breath taking and truly inspirational. They showed us a calm, serene, gentle and non intrusive way to connect and heal any animal. This has to be The way forward for all human - animal and human - human communication. I cannot thank James and Shelley enough for a wonderful day and giving me a new direction. I'm looking forward to learning more and becoming a qualified Trust Technique Practitioner.