Category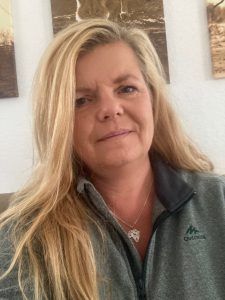 Works in person and online with Large Animals
Based in Hessen, Germany
Bio:
German
Mein Name ist Sabine, ich komme aus Alsfeld (Hessen) und bin Trust Technique Practitioner für Großtiere. Ich habe mein Leben lang mit Pferden zu tun gehabt, aber als ich 2018 zur Trust Technique fand, wurde mein Verständnis und mein Umgang mit Pferden auf ein ganz neues Level gehoben.
Pferde sind von Natur aus friedvolle, sensible und dem Menschen gegenüber aufgeschlossene Wesen. Es liegt allein an uns, mit ihnen eine harmonische Partnerschaft aufzubauen. Leider wird Pferden oft mit Druck oder Zwang begegnet – aus Mangel an Erfahrung, oder einfach "weil man es schon immer so gemacht hat".
Wünschen wir uns nicht alle ein Pferd, das freudig auf uns zukommt und Spaß daran hat, mit uns zusammenzusein – sei es am Boden oder unter dem Sattel? Gerne zeige ich Dir, wie Du mit der Trust Technique eine intuitive und besonders enge Verbindung zu Deinem Pferd aufbauen kannst. Solltet Ihr Herausforderungen im täglichen Miteinander haben, so lassen sich diese ebenfalls durch die Trust Technique auflösen. Eure Beziehung wird geprägt von innerem Frieden und tiefem gegenseitigen Vertrauen.
English
My name is Sabine, I am living in Alsfeld (Hessen) and I am Trust Technique Practitioner for large animals. I have been around horses all my life, but when I found the Trust Technique in 2018, my understanding and interaction with horses was taken to a whole new level.
Horses are peaceful, sensitive creatures who are open-minded towards humans. It is in our hands to build a harmonious partnership with them. Unfortunately, horses are often treated with pressure or force – either due to a lack of experience, or simply "because it has always been done that way".
Don't we all wish for a horse that approaches us joyfully and loves being with us – on the ground or under the saddle? I will be happy to show you how you can build an intuitive and very close bond with your horse, using the Trust Technique. Should you have any challenges in your daily routine, these can also be resolved. Your relationship will be characterised by inner peace and a deep mutual trust.
Website: in construction
Please fill out the form below to contact this practitioner: