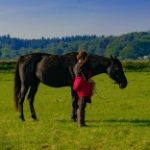 Messages of trust is an inspiring series. It explains principles clearly, and that helps me in practicing TT. It is wonderful to see the examples, and how quick major results can be achieved.
In reality practising can be quite a challenge, I know I do not have the inner peace James shows, by far. 😉 .
I am convinced it is very much worth growing in this direction, in this way, together with my animals.
James's voice here is quiet and understandable. In the home course I have often difficulty in hearing what is said, especially what the owners tell.

Thank you for this great course. And also for the other courses. My world has completely changed due to the trust technique. I now see everything with different eyes. And you showed me how wonderful it can be. I'm so thankful to you, Shelly and James for sharing all of this with us, creating a better world for the animals and humans too.
Once again you have delivered a wealth of invaluable information and insights. Thank you so much James. I would love to go even further into this and look forward to more of these wonderful videos. I have seven rescue horses and live my life on the principles you have outlined here, trying to help them overcome the trauma of past abuse. Sending you all kind regards.
Thank you so much James for this essence of your teachings. I've got your video course before. So I already know a lot about trust technique. These few short videos are well worth my time. They deepen my experience of all what I have learnt. I love it, not only for working with the animals but also for being with people 🙂
This is a great overview that inspired me to review again the video course. We, my two horses and me, thank you James & Shelley! The world is getting more and more wonderful and peaceful with your mindful presence.